I was in a meeting starting Friday night, all day Saturday and then went to yet another one on Saturday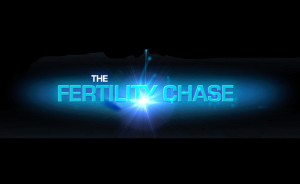 evening, so I was a bit delayed on my post regarding the 4th episode of The Fertility Chase (TFC). I hope you will find that it was worth the wait.
A Woman's Reproductive Age:
Maria Bustillo, Kimberly Thompson and Juergen Eisermann were the Reproductive Endocrinologists from the South Florida Institute of Reproductive Medicine in the first segment. I know all of these physicians and they do a very good job.
Angelique was the infertility patient. She went through six intra-uterine inseminations (IUI's). I couldn't tell if oral or injectable medications were used. Laparoscopy was the next step wherein "unexpected" problems were discovered. In vitro fertilization (IVF) was used next and she conceived and delivered her son, a "mini-me" of her husband. Really, the likeness was quite striking.
The theme was the influence of a women's age in their quest for parenthood, a topic that has resounded through nearly all the episodes of TFC. It is the single most difficult issue for us to deal with as we cannot make ovaries younger or increase the production of healthy eggs when few exist.
Angelique did highlight a couple of interesting points. All of us have been caught by doing IUI procedures followed by a laparoscopy (out-patient belly button surgery) only to discover that the IUI procedures were unlikely to work because of problems found at the time of surgery. My feeling is that if surgery is to be contemplated, that one not perform too many IUI procedures before doing it. Understand, however, that laparoscopies do not always significantly improve the natural pregnancy rates, it is a "catch-22". Even so, laparoscopies do often give us a diagnosis and provide us with enough information and confidence to continue the IUI's procedures or to quickly move to other alternatives. As they say, hindsight is "20/20", and it is always easier to look back and think of treatments that we would have modified and a bit tougher to do it from the get go.
My last comment has to do with fact that Angelique had infertility insurance coverage. I have seen numerous cases where the treatment plan was different compared to someone without coverage. For example, where a non-covered patient may only try 3-4 IUI procedures, a covered patient may try 6. While not a tremendous difference, each failed month takes it toll on the patients and it so easy to let the insurance coverage influence the treatment plan. I call this the "insurance trap".
Polycystic Ovarian Syndrome (PCOS):
Edward J. Ramirez, M.D., from The Fertility and Gynecology Center, Monerey Bay IVF, was the Reproductive Endocrinologist in the second segment. Brandi and Monique were the patients featured.
For the readers, the diagnosis of Polycystic Ovarian Syndrome (PCOS) requires that at least two out of three of the following are true:
The woman doesn't release her eggs on a regular basis.
Male hormone levels are increased in the blood or there is an excess of facial or body hair in such locations as the chin, neck, back, abdomen and chest. Acne can sometimes also present.
That each of the ovaries have more than 12 small cystic structures, which we call antral follicles.
PCOS is the most common endocrine disease in reproductive age women affecting about 6% of the population. It is a very common cause of infertility.
Dr. Ramirez stated that 80% of the patients didn't ovulate (release their eggs) on either clomiphene citrate (Clomid) or letrazole (Femara). I believe that number is a bit high. In fact, there is ample evidence that it is more likely that 80% will ovulate on the medications, although not all of these will conceive. Nevertheless, these oral medications are a good starting point in addition to treating the other issues that are commonly present including pre-diabetes and even diabetes itself. Problems with weight are also found in about 80% of the PCOS patients so diet and exercise are an essential, although difficult, component of the treatment plan.
I was struck by the words and phrases these young women used to describe their diagnosis of PCOS and infertility including "alone", "not female", "jealousy", "shame" and "depression". I was very concerned about Monique's comment that she didn't have "the will to live". This level of depression must be treated seriously and be carefully followed by the clinician. Fortunately, Monique conceived and delivered. I hope Brandi soon does the same. Perhaps TFC can follow up on Brandi in the near future.
Male Factor Infertility, Spinal Cord Injuries:
Dr. Randall B. Beacham from the University of Colorado School of Medicine was in the next segment discussing spinal cord injuries inmen. Jasmin was the injured male patient who apparently was unable to ejaculate naturally. Dr. Beacham is well respected and well published.
This couple told a story of being seen by four doctors being told different things before finding Dr. Beacham. Male factor infertility really requires the assistance of a highly trained Reproductive Endocrinologist who also sees male patients and/or a Urologic Infertility Specialist such as Dr. Beacham. Both of these types of physicians are a bit rare so infertility patients have to seek them out.
Jasmin entered an experimental study where clomiphene citrate (Clomid), a medication usually reserved for women, was given to him in the hope of stimulating sperm production. This medication has been studied in the past and was not shown to be useful in the vast majority of men suffering from male factor infertility. I had to laugh when Jasmin said he bought six pairs of shoes and had an urge to shop while on the medication. In reality, Clomid hopefully increases the male hormone in men and the female hormone minimally, if at all. I think he just wanted an excuse to go out shopping.
It appeared that Dr. Beacham was able to stimulate ejaculation through a technique called "electro-ejaculation" wherein a probe is placed into the rectum and electrical current is released resulting in a type of spasm that produces an ejaculate. His wife underwent hormone stimulation of her ovaries to increase the number of targets for the limited quality and quantity of sperm. Presumably, she had an IUI procedure and conceived a little girl. The macho Jasmin clearly wanted a boy but I'm sure he will treat his little girl as a princess.
My only concern in this piece was that it needed to be emphasized that Clomid has not been found to be useful in the previous randomized and controlled studies and had fallen out of favor. I did a search to see if there were any prospective studies published on the subject over the past 10 years and found none. Dr. Beacham made it quite clear that there were no magic medications for male infertility but he apparently feels that this medication may be of some use in this particular kind of patient. If it is to be used, I urge that it be done in a study setting, as it was with Dr. Beacham, so as to not give false hope, waste time or result in unrealistic expectations.
Re-cap:
The last segment was a collection of past segments, including ours from last week about embryo donation. The show ended with the comments that infertility patients were misinformed, misled, suffered in silence and felt powerless. Clearly, TFC is trying to change that and more power to them. I'll certainly support their effort.
As always, if you agree to disagree with whatever I write, please do not be shy and leave a comment or two. Questions will also be answered when possible. Until then, go forth and try to multiply.